Off-grid refers to not being connected to the regular, city provided, electricity, water, gas, and sewage. Our houses are off-grid. The sun delivers passive energy for us to provide you with electricity using solar panels and batteries.  This is a wonderful renewable resource. We have composting toilets, we pump our own water from the ground, and use propane gas to run your stove, refrigerator, and room heater.
The infrastructure that supplies water, propane for heating and cooking, as well as solar electric power for the cottages are set up and maintained solely by the staff of Diamond Mountain (DM).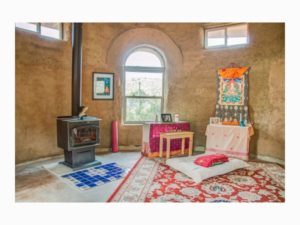 In referring to off-grid electricity, it is a phrase that refers to not having regular "mains" electricity. This means that at our houses electricity is generated from the sun and stored in batteries for use when the sun is not shinning. This electricity runs at a lower voltage than the "normal" electricity which you are used to. You will hear us refer to the electricity in most of our houses as 12volt. This means that most of our houses cannot support household appliances which you might be used to using, for example, hair dryers, coffee makers, electric kettles, blenders, and rice cookers. A few of our houses at this time can support some of the mentioned appliances. If this is important to you, let us know and we will try to accommodate you.  Considering that Arizona has on average 299 sunny days a year, our systems are sized to provide electricity for 3 days when the sun is not shining. For longer periods it can be challenging, but this doesn't happen often. The sun is an incredible source of free power and heat and DM harnesses this power to provide you with electricity. Some of our houses are also what we call passive-solar, which means they use the heat of the sun to warm them up.
In our 12v houses, we provide an inverter with which you can charge your small electronics, such as laptops, phones, small recording devices, and batteries.
We do ask our guests to only use your inverter for charging, laptops, phones, and batteries. In cottages that do not have upgraded batteries, we highly recommend that you do this during the day when you are not using the electricity stored in the batteries which will be used by you after dark. Also, turn your inverter off when it is not in use.