Ride the Tiger Retreat
Experience the practice of Hatha Yoga
with Earle Birney and Lisa Schrempp
SINK YOUR MIND INTO THE QUEST TO BECOME FLUENT
IN THE CAPSULES AND INNER WIND;
A PERSON WHO CONTINUES TO PRACTICE THEIR YOGA IN THIS WAY
TRAVELS TO THE STATE OF ROYAL YOGA ITSELF
Hatha Yoga Pradipika, Verse 2.77
Bonus for the first ten people who sign up!
A 45-minute private consultation with a teacher included.
The Hatha Yoga Pradipika text is not an intellectual exercise. It is an instruction manual. These are not ideas to be memorized but rather deep practices that lead to the purification of the body and mind and profound states of realization.
And so simply receiving these instructions is not enough. These practices are short on instruction and long on practice, so we need feedback. We can only learn from a text so much, and to do this properly, there is nothing better than the retreat experience. This allows us to gain a personal experience of the practices and enhances our capacity to integrate them into our daily routines.
In this retreat, we will focus on the following:
Meditation
Asana
Shatkarmas, or cleansing practices
Pranayama, or breath control techniques
Dinacharya/Ritucharya developing a personal daily practice and seasonal routine according to Ayurvedic principles
During the retreat, students will receive daily instructions and engage in group practices in the morning and afternoon and then have the evening to experience a deep retreat in their own retreat cabin. In this way, students will have the opportunity to be guided in the practices and time to integrate them on their own.
To ensure you get the most out of your time at Diamond Mountain, we will send out a series of emails in advance of the retreat that explains how to best prepare your mind and body.
When: December 27, 2023 – January 2, 2024 (check-in: 1-4pm)
Where: Diamond Mountain Retreat Center, 3209 S Old Fort Bowie Road, Bowie, AZ
Language: English
Teachers: Earle Birney, Lisa Schremp
Group Size: max. 16 participants
What is included: Housing (including linen and towels, and we have yoga mats and cushions for you onsite) and a 45 minute private consultation with a teacher for the first ten people who sign up!
What is NOT included:
Meals are not provided. We understand that our attendees have specific dietary preferences and requirements for this very special retreat. To ensure everyone can adhere to their unique diets, we've chosen not to provide meals. Instead, each cottage is equipped with a fully-functional kitchen, allowing you to prepare meals that suit your individual needs. We will also make a grocery stop en route to Diamond Mountain for your convenience.

Transfer from Airport Tucson to Diamond Mountain. If you need a shuttle, please add "shuttle" during registration and plan to arrive at Tucson BEFORE 12pm on December 27, 2023 and departure NOT EARLIER than 1pm on January 2, 2024. If you need a hotel because you arrive a day earlier, we recommend La Quinta Tucson Airport. And yes, we have a shopping stop on our way to Diamond Mountain so that you can get groceries.
We also encourage you to carpool. You will receive a link to a CarPoolWhatsApp group after registration to connect with other participants.
If you have more questions, please click here.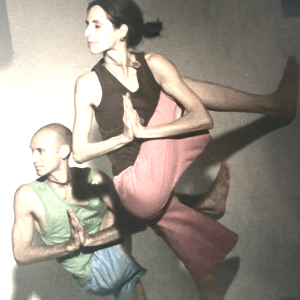 Teachers
Earle Birney used the Pradipika as his source for hatha yoga during his three-year retreat. He has extensive experience in the shatkarma practices and can lead students through these sometimes complicated practices safely and with grace.
Earle will be joined by his yoga teacher, Lisa Schrempp, who has spent over 30 years training in these practices. Lisa brings an extensive knowledge of Ayurveda and will integrate this wisdom in her teachings on asana, pranayama, and self-care practices.