Diamond Mountain Serve And Study Program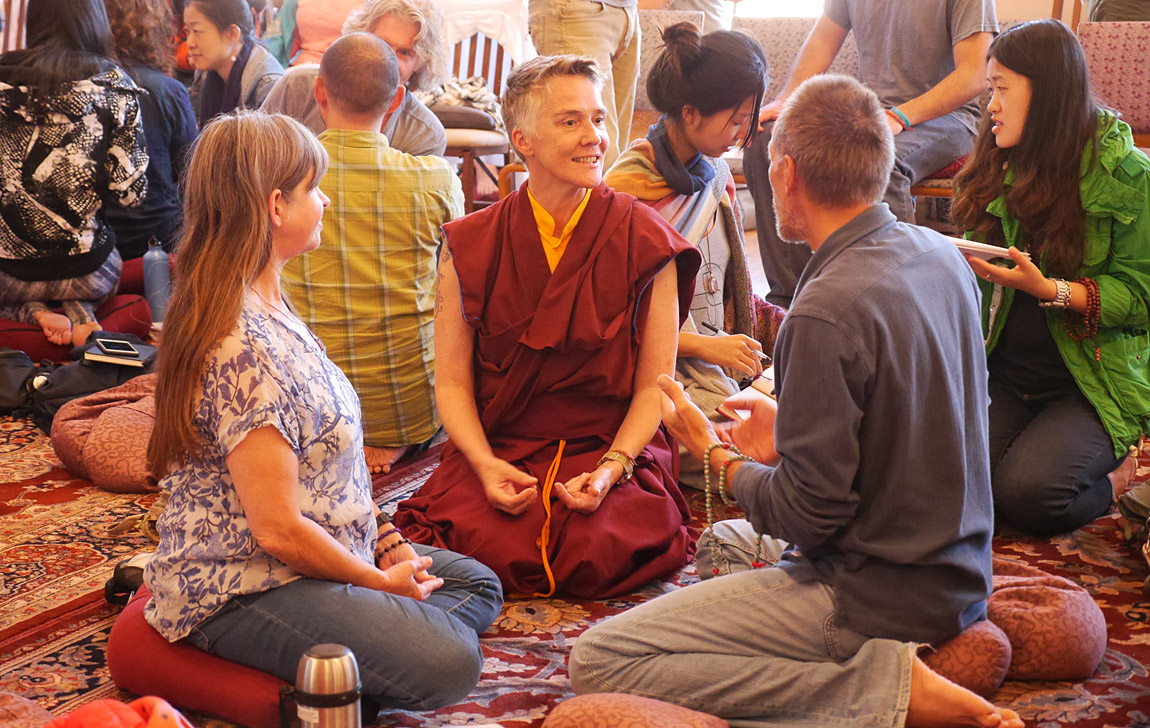 Immerse yourself in a spiritual lifestyle and Retreat Center life by participating in our Serve and Study Program. Allow the practice of selfless service to open your heart.  Meet life-long friends.  Learn to transform service into a spiritual practice.
To qualify for the program, you will be asked to volunteer a minimum of 6 hours a day, 5 days a week. Your weekends are free, giving you plenty of time to practice and enjoy the beautiful land. You will be asked to serve on maintenance, grounds-keeping, cleaning and preparing cottages for guests. Additionally, during the "Retreat"" there will be light volunteering (1-2 hours/day) that won't conflict with the teaching schedule, i.e. you won't miss any teachings. We also ask that all volunteers stay at least 2 days after the program ends to help with important post-retreat clean-up.
Start Dates & Service Program Costs
Thursday, August  20, 2020 (4-week volunteer program): FREE
Thursday, August 27, 2020 (3-week volunteer program): FREE
Thursday, September, 2020 (2-week volunteer program): $250
Study
Join our 2, 3 or 4 week Serve & Study program and "September" Retreat  registration is included.
The number of participants we can accept is limited, so please apply early!
Sample Daily Schedule
8:00-9:00am - Yoga, Meditation, or Dharma Class
9:00-09:30am - Breakfast and prepare for daily service
10:00am - 01:00pm Worktime
01:00-03:00pm Lunch (Bring your own Lunch)
03:00 - 06:00pm Worktime
7:00-10:00pm - Personal time for Study, relaxation, etc.
Getting Here
Driving? See directions here.
Want to take a Bus?  Greyhound bus can take you to Willcox, AZ from a variety of cities including Tucson, AZ and Phoenix, AZ.  We can pick you up from Willcox any day between 11am and 5pm.
Flying? We provide complementary pick-up from Tucson Airport between 10am & 3pm on the following dates: August 19, August 26, September 2, 2020.
If your flight arrives at Tucson Airport later than 3pm Wednesday , please plan to fly into Tucson on Tuesday night, so that you are ready for pick-up between 10am and 12pm on Wednesday.  Diamond Mountain guests and volunteers enjoy spending the night at La Quinta Tucson (5 minutes from the airport).
Please confirm with our Volunteer Coordinator BEFORE you book your flight:
If you are accepted, we will provide you with:
simple, shared accommodation with bunk beds
use of a community kitchen
comfortable bed and linens
transportation between Tucson Airport and Diamond Mountain
an opportunity to serve the dharma and your fellow retreaters while learning how to use service as a spiritual path!
For a listed of suggested items to bring, please CLICK HERE.
Other questions? Our Volunteer Coordinator would be delighted to hear from you.
Positions are limited, so apply soon!
Can't come to Diamond Mountain to help in person? Consider sponsoring a volunteer!
Subscribe to our newsletter and be informed about latest news, events and promotions.
FOLLOW US ON SOCIAL NETWORKS
Copyright © 2018 · All Rights Reserved · Diamond Mountain Retreat Center