THE SECOND LINEAGE
The Devil debates the Angel
Led by Geshe Michael Roach
Powered by ACI and Lapis Lazuli Cultural Association
Online, Onsite @ Diamond Mountain, or local organized retreats in your region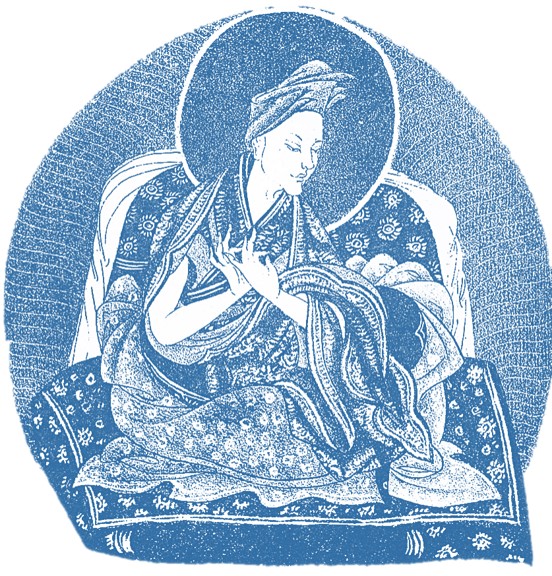 Lobsang Chukyi Gyeltsen (1565-1662)
This year we delve into a 'modern' commentary about the Medicine Buddha Sutra and a text about emptiness meditation. It is often good to expand our thinking by considering another perspective on the same text. A fresh perspective enables understanding the practice at a deeper level. It also encourages us to meditate correctly on EMPTINESS 🙂
We will study two texts by Lobsang Chukyi Gyeltsen (1565-1662).
Lobsang Chukyi Gyeltsen was an extraordinary practitioner, thinker, and contemplator; a yogi; a poet and writer among the greatest who have ever lived; and an ardent pacifist who once stopped a war single-handedly, by walking out between the opposing armies.
Along with the recently translated commentary on the Medicine Buddha we will also reflect on An Argument with the Tendency to Think that Things are Real, widely known as The Devil debates the Angel.
When: Saturday October 15 – Monday 24, 2022
Where: Online, or Onsite @ Diamond Mountain, or local organized retreats in your region
Online Classes: Daily from 6-9am Arizona | Berlin 14:00-17:00 | Moscow 16:00 – 19:00 | Singapore 21:00 – 24:00
Sign up for this unique opportunity so that you can receive the blessing to study and meditate on the Medicine Buddha teachings, practices & prayers!
Gold
Live-streamed Bodhisattva Ceremony led by Fearless Sage
Live-streamed Empowerment led by Fearless Sage
Daily Classes with Geshe Michael Roach
Access to Videos
Q&A Sessions with Senior Teachers
Retreat in Retreat
Virtual Gompa (Practice Together)
Butterlamp Ceremony
Fire Offering Ceremony
Retreat Schedules to Suit your Availability (Full, Light, Self-Paced)
PDF: Sadhana, Sutra, Commentary, The Devil debates the Angel
Register $99
Lapis Lazuli
Live-streamed Bodhisattva Ceremony led by Fearless Sage
Live-streamed Empowerment led by Fearless Sage
Daily Classes with Geshe Michael Roach
Access to Videos
Q&A Sessions with Senior Teachers
Retreat in Retreat
Virtual Gompa (Practice Together)
Butterlamp Ceremony
Fire Offering Ceremony
Retreat Schedules to Suit your Availability (Full, Light, Self-Paced)
PDF: Sadhana, Sutra, Commentary, The Devil debates the Angel
8 prerecoreded Yoga classed (dedicated to the Medicine Buddhas)
Gold Q&A Session with Geshe Michael Roach & Fearless Sage
Register $499