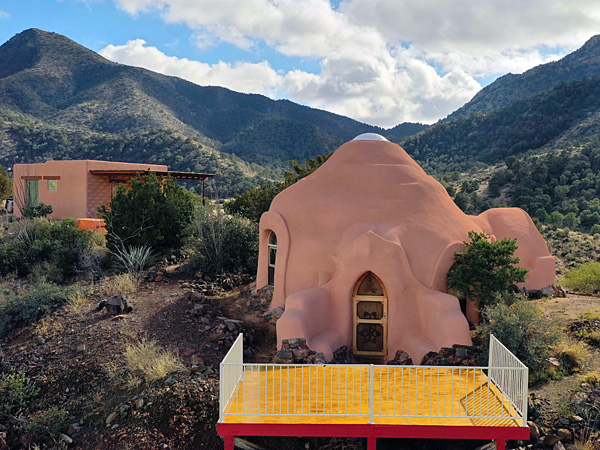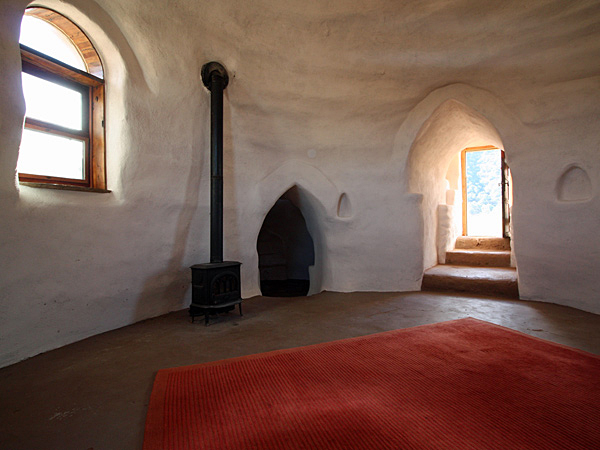 #3
House 4 is one of our most recently renovated houses with a beautiful American Clay finish inside, new wood floors, new stucco exterior over adobe brick and all the amenities required for either a solo or couple retreat.
This amazing house sits on top of the hill and is our highest retreat facility. The associated meditation dome is a round earth bag structure that is perfect for deep meditation.
A connected deck overlooks the Diamond Mountain retreat valley for sunsets or morning yoga to the north while the looming Chiricahua mountains ring the entire southern view.
Location

Remote location at the end of our central road overlooks the entire retreat valley

Bedroom

1 bedroom with queen bed, appropriate for an individual or a couple

Kitchen

Full kitchen with 4 burner stove and large refrigerator with tiled countertops

Bathroom

Full bathroom with large bathtub and composting toilet

Meditation

Dedicated practice space in amazing earth dome building

Heat

Propane heat in the living space. Wood stove in the meditation space

Hot Water

Passive solar hot water heater

Special Feature

Renovated platform outside for meditation or yoga
Diamond Mountain Retreat Center, 501(c)3 Non-Profit
3209 S Old Fort Bowie Rd.
Bowie, AZ 85605
(520) 775-1921
General Information & Individual Retreats

Subscribe to our newsletter and be informed about our latest news, events and promotions.
SIGN UP FOR OUR NEWSLETTER
FOLLOW US ON SOCIAL NETWORKS
Copyright © 2020 · All Rights Reserved · Diamond Mountain