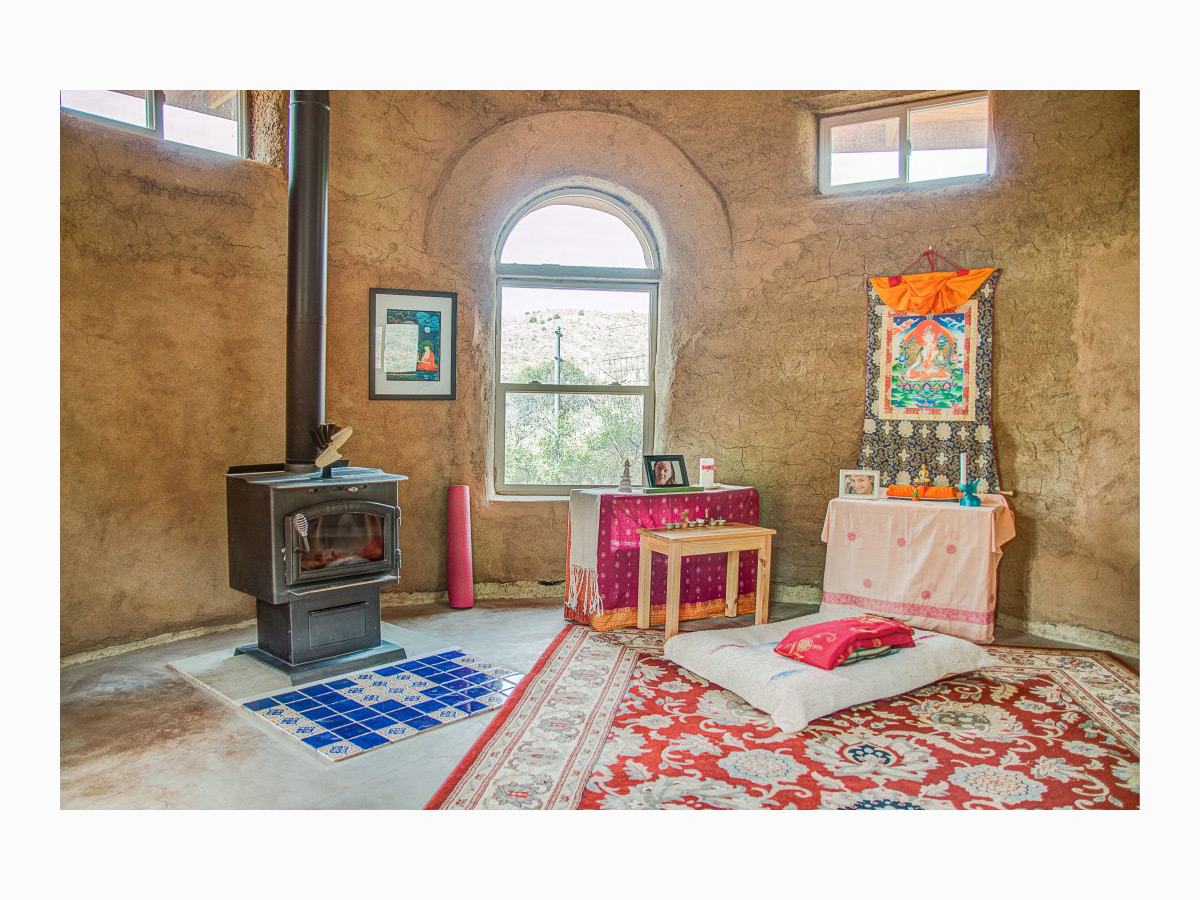 Tucked away in the historic Bear Gulch Orchard, this house has plenty of privacy, but is centrally located. This is the former terraced home of many fruit trees and it is also very close to the Tara temple and Ranch House facilities.
Environmentally conscious, house 3 features a rammed earth dome for meditation and yoga practices and for sleeping and a straw-bale house for living, eating and bathing. Adobe earth floors and thick walls keep both structures temperate during the heat of the summer and the cold of the winter.
Close to the edge of our property this house has easy and quick access to hiking in the Chiricahua mountain range.
Location

Centrally located near group retreat facilities, temples

Bedroom

A bedroom niche with full-size bed, appropriate for individual or couple retreating

Kitchen

Full kitchen with 3 burner stove-top and propane refrigerator

Bathroom

Indoor shower; outhouse (vaulted privy)

Meditation

Separate from living space, ample space for yoga and other movement practices

Heat

Propane heater in the living house, wood stove in the sleeping/practice house

Hot Water

On demand electric hot water heater

Special Feature

Located in historic orchard, rammed earth dome practice structure

Seasons

Year-round, 4 season cottage
Diamond Mountain Retreat Center, 501(c)3 Non-Profit
3209 S Old Fort Bowie Rd.
Bowie, AZ 85605
(520) 775-1921
General Information & Individual Retreats

Subscribe to our newsletter and be informed about our latest news, events and promotions.
SIGN UP FOR OUR NEWSLETTER
FOLLOW US ON SOCIAL NETWORKS
Copyright © 2020 · All Rights Reserved · Diamond Mountain